Shaolin Kung Fu
Living in New Orleans, we need a positive space in our lives to work on improving ourselves and restoring our spirits in a healthy and supportive atmosphere. Shaolin-Do, or "The Way of Shaolin", offers a time-tested, structured path to health, fitness, renewed self-confidence, personal safety, and mindfulness. Like the monks of the Shaolin Temple, we use martial arts training to benefit not only our physical strength, but our internal fortitude as well. 
Learn More
Tai Chi Chuan
Tai Chi (taijiquan) is practiced either as an advanced martial art or for its health benefits.  
Self-Defense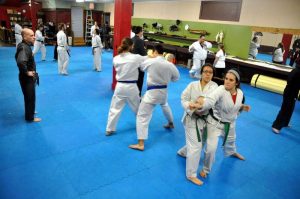 Self Defense Fitness distills the most practical and easily-accessible techniques into an effective self defense program while keeping the humble and non-macho atmosphere of traditional kung fu. You'll learn how to use your body in a forceful way and keep your mind calm in stressful situations. No martial arts experience necessary!
Learn More