Don't just work out…
Empower your body, mind, and spirit to protect yourself and those you love!

Overview
Learning self-defense doesn't have to be about learning the entirety of a traditional martial art. Self Defense Fitness is an all-levels self defense and fitness class based on the ancient art of kung fu. It distills the most practical and easily-accessible techniques into an effective self defense program while keeping the humble and non-macho atmosphere of traditional kung fu. This creates a fun, friendly, and mentally engaging way to harness the confidence that comes from the ability to physically protect yourself. You'll learn how to use your body in a forceful way and keep your mind calm in stressful situations. No martial arts experience necessary!
What to Expect in Class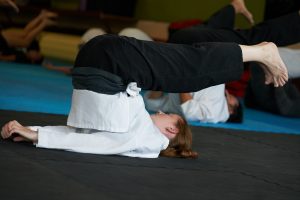 Class will begin with dynamic stretching and guided warmups. We'll then typically work on technique by punching or striking in the air to start learning the basic body mechanics. Next, to make these techniques real, we'll work with kick-shields or punching bags to practice them at full force. After that, we'll do some partner training or light sparring to become familiar with being in contact with another body. Finally, we cool down and stretch and do some breath training to keep you calm in tense scenarios. Please wear exercise clothes and bring a water bottle and hand towel!
How it's Different than the Kung Fu Curriculum
Because this class stresses fitness, rather than Shaolin-Do's expansive curriculum of forms and weapons, it is a low-overhead way to try martial arts for the first time, expand another mind/body practice like yoga, or get back into training if it's been a while.
It's also a lower-cost alternative to our full curriculum! Our class-based packages allow you to affordably drop in to this one class at your convenience. Then if at any time you want to deepen your practice, we continue to offer our standard Shaolin-Do monthly enrollment package which gives you access to all of our weekly kung fu and tai chi classes as well. Our kung fu program adds a belt-ranking system that rewards dedicated practice.​