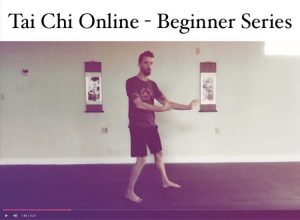 NEW: Tai Chi Online - Beginner Series
Learn the first section or "road" of the Tai Chi 24-posture form in the privacy and comfort of your own home!

A form, once memorized and built into the neurology of the body, can be a gateway into the present moment. Use it to ground and relax yourself while flowing through gentle movements.

This 8 video series starts with a warm up video. Then it takes you through the form one posture at a time. Finally, it ends with a quick review video to follow along if after you've learned each movement.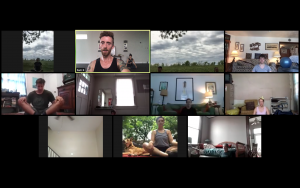 Now you can join with others to practice in real time. Make this part of your weekly schedule to stay on track!

We'll still focus on opening and relaxing, but we'll begin to move through the First Road of the 24-Posture form. If you don't know the form yet, you'll be able to follow along. For those who do know the form, we'll begin to cover more internal principles to take your form practice deeper and deeper.

Join us! Saturdays at 11am.
$15 single class or with any Shaolin-Do class package. Click title or photo to sign up.
(If price is an issue, just email nolashaolin@gmail.com for reduced pricing options!)
Calm the Mind. Relax the Body. Sink.
These are the initial goals of practicing Tai Chi Chuan, whether it's being learned as an advanced martial art, or simply for the various mental and physical health benefits.
There are many reasons people practice tai chi at New Orleans Shaolin-Do:
physical pain relief
to stay calm under pressure, either in a professional setting, or in daily life
increasing athletic performance or martial art skills
to improve balance and coordination
simply as a gentle exercise for seniors or people with injuries
No matter the reason, they all boil down to wanting to increase the awareness of one's own body. 
A Tai Chi practice systematically achieves this through the following method:

Decrease focus on the thoughts.
Switch mental focus to the body, initially the breath, to feel real-time sensations. 
As we come into the moment, and out of our thoughts, our minds begin to become less agitated, freeing us from uncomfortable mental states like anger, depression, and anxiety. 
As our minds relax, our body begins to let go of stuck tension which relieves us of aches and pains, which eventually turn into serious injuries. 
As our bodies relax, we sink as gravity pulls us into the ground, improving our balance and connection to the earth.
From here, anything we do can be focused, coordinated, and energy-efficient, unlocking the true potential of your life!
Our studio is currently closed for COVID-19, but we've set up a great way for you to learn tai chi through online videos and livestream classes. See the options below.
Tai Chi Unlimited – $45/month
Sign up for this package to receive 2 videos per week: one video of a full 45 minute class with loosening exercises, standing meditation, and tai chi movements, and one more intermediate, shorter video that goes into more depth about a specific topic. 
Now also included: access to our livestream class!
Tai Chi Online – Intermediate Series
Grasp the Sparrow's Tail: The Four Primary Energies of Tai Chi – $75
These videos are entire classes including loosening exercises and standing meditation to prepare you for each of the specific energies.
The series contains:
Intro – teaches the basic movements of all four of the postures
Ward Off (peng) – and outward, opening energy like a shield
Roll-back (liu) – energy pulling back and by you
Press (ji) – both hands press together to create two forces manifesting as one
Push Down (an) – think of pressing a beach ball down under the water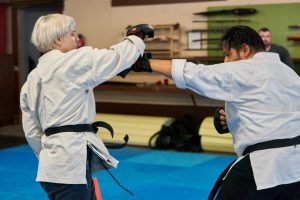 Shaolin Kung Fu
If you are looking for more vigorous and physically-demanding training, sparring, specific traditional Chinese martial art styles, or to get in shape with a fun fitness regimen, we recommend our time-tested Shaolin Kung Fu program.