Currently Outdoor only. Masks and distance required.

Monday and Wednesday 5-5:45pm. 3921 St. Claude Ave in Bywater.

In a large, fenced-in, private side yard to our studio.

Affordable monthly fee includes two weekly outdoor classes and occasional videos for home training. 

Separate from adult classes; for kids ages 6-12
One of very few Downtown kids programs!
Less expensive than other New Orleans kids martial arts programs
Learn at a pace suitable for each individual
Emphasis is on attaining goals, fun with fitness, and self-defense
Learn the same curriculum as adult students but at a slower pace
Multiple experienced instructors for more one-on-one instruction
No hidden fees. Only the monthly enrollment and periodic testing fees for the new belt.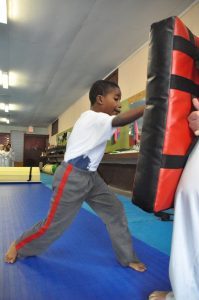 What will my child be doing in class?
Each class begins with some simple warm up exercises and stretches. Children learn a progression of basic stances, kicking, and punching exercises. They are also taught simple, effective self-defense techniques. Soon they will be doing more complicated movements (katas) which incorporate combinations of movements and left/right coordination and are more intricate and challenging than anything taught in karate or tae kwon do. Studies have shown that this type of activity increases the left/right coordination of the brain as well! Even the seemingly most uncoordinated of children develop improved balance & coordination by studying kung fu.
Why enroll your child in Shaolin-Do?
In addition to improved balance, flexibility & coordination, Shaolin-Do teaches children important values about respect, work ethic, dedication to effort, and the importance of not bullying. It transmits wonderful qualities of self-esteem, mental focus and discipline. In our program, children find pride in their abilities and in working toward fitness goals. Best of all, they have a great time!! We are not however, militaristic in our teaching. We don't demand respect – we work to earn it.
Learn kung fu with your child!
Enroll in the adult kung fu program to get in shape and work in parallel with your child. You will be learning the same curriculum and can practice at home together. Best of all, kids of parents who are active members of the adult program get 10% off enrollment!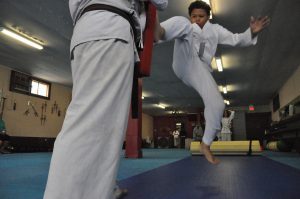 To Watch or Try a Class – contact us so we'll be expecting you on your first night. You're also welcome to watch a class for free. This gives you all the opportunity to meet the instructors and see if you and your child like the class, atmosphere and teaching style. If participating in the class, just put the young martial artist in comfortable, loose-fitting clothes and arrive a few minutes early.
Uptown Class (currently suspended due to COVID-19)
We also have a weekly kids kung fu class Uptown at Cypress Fitness in the Lower Garden District! The program is the same but it has separate rates and schedules. Please contact Sifu Brian (badams4@hotmail.com) to learn more.